Paper Straws
Paper Straws. Contains 25 pink and 25 blue straws.
Description
Paper Straws. Contains 25 pink and 25 blue straws.
You might like these
int(37001)
We make it easy to make homemade with our delicious blend of seasonings for a delicious Italian salad dressing that you will be proud to serve to your family and friends. 22g/.78 oz  
int(36934)
Classic slightly spicy taste a perfect balance of taste. A great way to get that moist, seasoned chicken, you''ll never want to cook a chicken any other way. 35g/1.2oz  
int(36992)
Each kit, perfect for gifting, contains 2 printed drinking jars and a pouch of Sangria drink mix. Makes 1 liter. 105g/3.7 oz  
int(36953)
Heat up the skillet and make Chicken Fajitas,  make fresh at home, our recipe rivals that of your local Mexican restaurant. 28g/1oz  
int(36998)
A full flavored blend of oregano and other Mediterranean herbs to enhance your Salad. Serves 8 portions. 18g / .6 oz  
int(37005)
Perfect for those Spring days, Summer evenings around a campfire, or crisp Fall days after a walk in the country or just around the block. 35g/1.2oz
int(13601)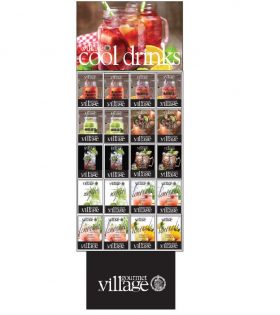 Summer Drink Display. Contains 120 Bar & Summer Drink Mixes. The displays are 160cm (63″) high x 45cm (18″) deep x 53cm (21″) wide.
int(37135)
Pasta Sauce Trio. Authentic, great tasting, homemade pasta sauces with all flavor, Arrabiata, Alfredo & Marinara. 59g/2.08 oz  
int(46630)
9 varieties : Thyme, Basil, Oregano, Salt, Ground Pepper, Curry Powder, Paprika, BBQ seasoning, Cajun Seasoning.