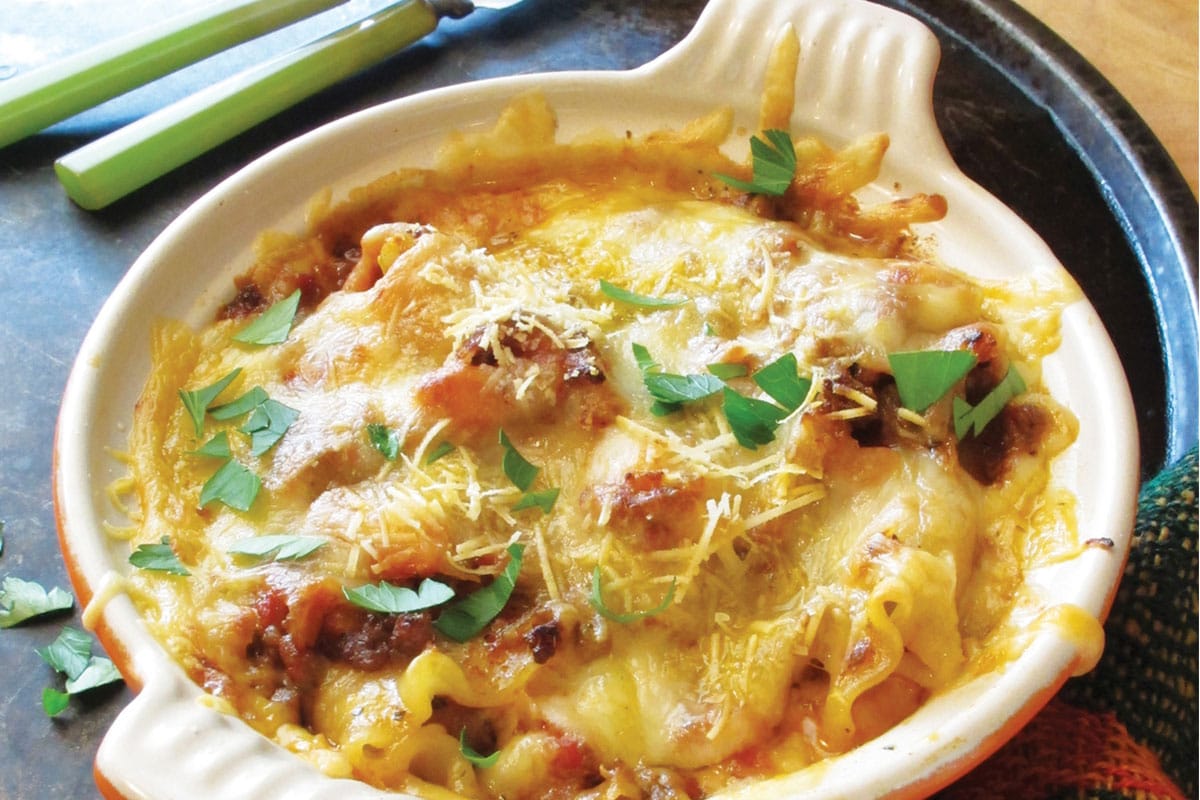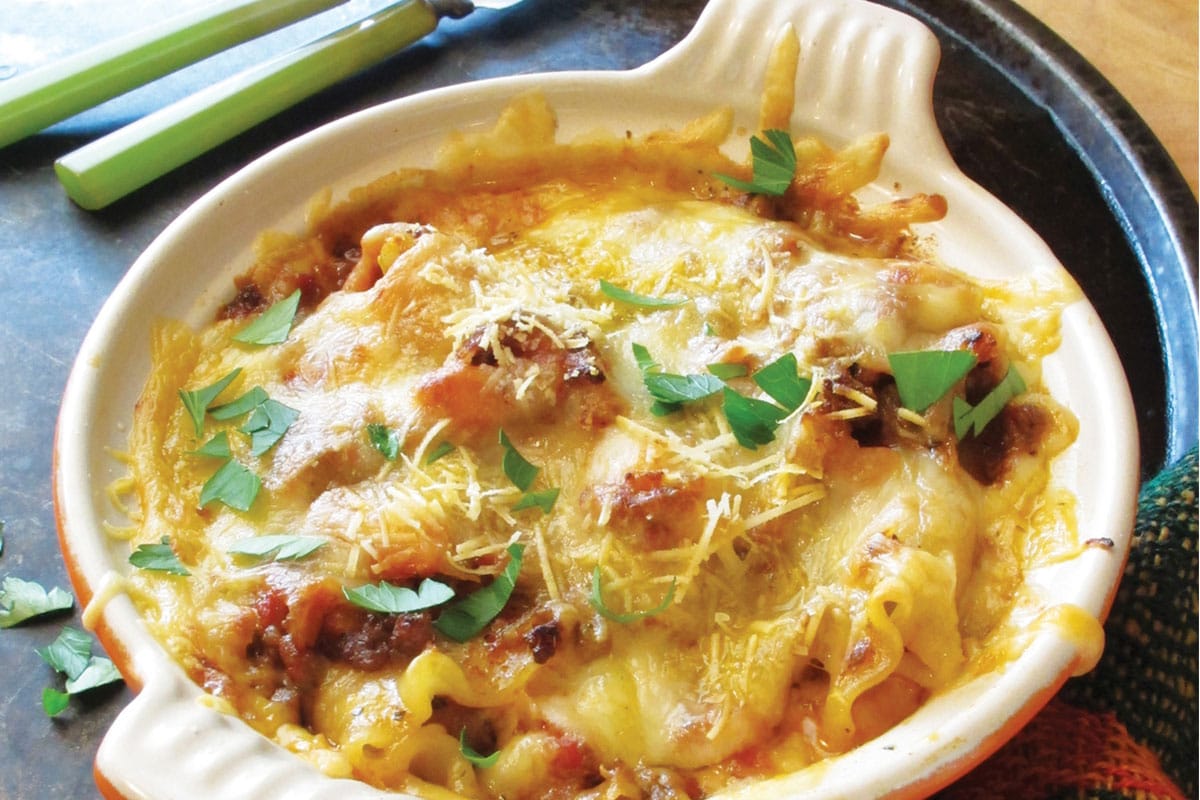 Baked Lasagna
April 24, 2017
Lasagnas are typically made to feed a crowd, but this one really satisfies whe you would rather eat alone or as a couple.
Prep: 30 mins
Cook: 25 mins
Yields: 1 - 2 Servings
Ingredients
- 4 tbsp (60 ml) chopped onion
- 4 tbsp (60 ml) chopped celery
- 4 tbsp (60 ml) chopped carrot
- 8 oz (230 g) extra-lean ground beef
- 1 ½ cups (360 ml) canned diced tomatoes & liquid
- 4 tbsp (60 ml) Ricotta cheese
- 4 tbsp (60 ml) freshly grated Parmesan cheese, divided
- 2 cup (500 ml) shredded Mozzarella cheese
- 4 sheets dried lasagna (the traditional 2"x10" /5.5 cm x 25 cm)
- Chopped fresh flat leaf parsley for serving, optional
- 4 tsp (20 ml) GOURMET DU VILLAGE HOT PEPPER PARMESAN BAKED & COLD DIP MIX
Directions
1In a medium saucepan, heat the oil over medium heat, add the onion, celery and carrot and cook until softened, about 5 minutes.
2Increase the heat to medium-high and add the ground beef, season with salt and pepper, and cook for 3 to 5 minutes, breaking up the meat.
3Add the tomato and liquid, the tomato paste and the GOURMET DU VILLAGE HOT PEPPER PARMESAN DIP SEASONING; bring to a boil, reduce the heat and simmer, uncovered for 15 minutes, stirring once in a while, until it is nice and thick. Remove from the heat. Set aside.
4Preheat the oven to 375 F (190 C).
5Cook the lasagna sheets in a large saucepan of rapidly boiling salted water for about 10 minutes, until al dente. Drain, rince under cold water, drain and set aside.
6In a small bowl, blend the Ricotta cheese with 2 tbsp (30 ml) Parmesan cheese.
7To assemble the lasagna: Cover the bottom of the baker with some meat sauce. Place one end of one sheet of lasagna over the sauce, with the other end hanging over the side. Spoon half of the Ricotta over it and sprinkle on some Mozzarella. Fold back the other end of the lasagna diagonally over. Spoon on the rest of the Ricotta, sprinkle on some Mozzarella. Fold the last third of the sheet diagonally over. Spoon some meat sauce over it and sprinkle on some Mozzarella. Proceed in the same freestyle crisscross layering with the next sheet of lasagna, alternating the pasta with some meat sauce and Mozzarella and finishing the top layer with meat sauce, Mozzarella and the remaining Parmesan.
8Bake until hot and bubbling, about 25 minutes. Serve with some freshly chopped parsley, if desired.
9Makes 2 serving.