View cart
"Italian Salad Dressing" has been added to your cart.
Burger Clamshell Box
Burger Clamshell Box. 12 per pack.
Description
Burger Clamshell Box. 12 per pack.
You might like these
int(36930)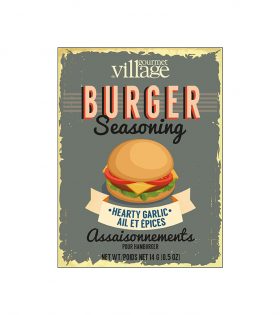 The perfect blend of Garlic, Herbs & Spices. Homemade Burgers are so much more tasty with our Burger Seasonings. 14g/0.5oz  
int(37005)
S'Mores Dip Kit with 6.3 inch (16 cm) cast iron skillet filled with all the Chocolate morsels and small marshmallows to make a complete S'Mores Dip to enjoy and share. Just layer the Chocolate morsels in the bottom of the skillet, add a little cream, top with marshmallows heat and share, serve with graham crackers to dip and enjoy. Cast Iron Skillet can be used on the campfire, BBQ or in the oven. 155 g (5.5 oz)
int(44478)
Homemade Pizza in the oven or on the BBQ is unbeatable especially baked and served on our 12″ Cast Iron Griddle. What a way to treat your friends and family !
int(36970)
Market fresh vegetables, lightly coated with olive oil then sprinkled with our seasonings make a wonderful healthy and tasty change from Burgers and Hot Dogs.  
int(46090)
int(37080)
Hearty Garlic Burger  Seasoning, Beer Can Chicken seasoning and Coarse and Chunky Steak Rub. 70g/2.47 oz  
int(44504)
Delicious on freshly popped corn tossed with a little melted butter, or sprinkle on freshly boiled corn on the cob with butter. Also delicious with corn that has been roasted directly on the BBQ or in the oven. 22g/0.8oz
int(36934)