Apple Spice Pancake Mix
Yield 8 pancakes per cup. Full pouch makes 24 pancakes
Description
Yield 8 pancakes per cup. Full pouch makes 24 pancakes
Ingredients:
Ingredients: Wheat flour unbleached, Oat flour, Corn flour, Whey powder, Sugar, Apple diced unbleached, Baking Powder, Sea salt, Cinnamon, Nutmeg. .

Allergen Info:
Contains Wheat

Prepared in Canada
Apple Spice Pancake Mix
What you Need:
Mix & stir until well blended 1 cup (250ml) of pancake mix to 1 cup (250ml) of water.
Pour batter on a hot, lightly oiled griddle.
Turn when pancake edge is dry. Cook until golden brown. Turn only once. If desired, one egg may be added, reduce water to ¾ cup (175ml) for every cup of pancake mix.

For Waffles: add 1 tbsp (15ml) of melted butter and prepare as directed for waffle iron.
You might like these
int(48936)
Nothing beats the smell and taste of cookies & brownies freshly baked, straight from the oven. Bake and serve fresh from the oven for a truly decadent sensation, top with ice cream and dig in.  Cast iron skillet 16 cm (6.5″) with Brownie mix 200gr (7.05 oz)
int(11694)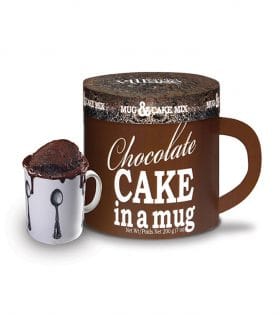 Includes Mug & Cake Mix Easy to prepare, just add an egg, water & oil, then follow our simple instructions. Pop it in the microwave for a minute for a piping hot cake in a mug. 200g/7oz
int(44486)
Easy to make Home made Pizza dough. Just add water! Makes 2 12-inch pizzas.
int(44284)
For some delicious homemade tasting chocolate brownies, all you need to do is add an egg, some water and oil (or butter) and bake for 25 – 30 minutes. Everyone will think you have the best homemade brownies ever and you'll never have to reveal your secret! 17 oz/400g
int(44311)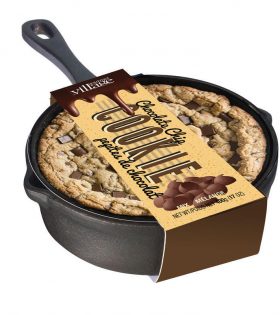 Nothing beats the smell and taste of cookies & brownies freshly baked, straight from the oven. Bake and serve fresh from the oven for a truly decadent sensation, top with ice cream and dig in.  Cast iron skillet 16 cm (6.5″) with Chocolate Chip Cookie mix 175gr (6.25 oz)
int(11700)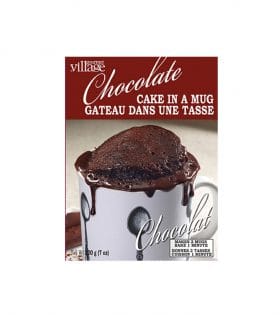 Cake in a mug mix. Easy to prepare, just add an egg, water & oil, then follow our simple instructions, pop it in the microwave for a piping hot cake in a mug. 200g/7oz
int(13703)
Pumpkin Cake in A Mug. Includes Mug & Cake Mix Easy to prepare, just add an egg, water & oil, then follow our simple instructions. Pop it in the microwave for a minute…
int(11698)
Includes Mug & Cake Mix Easy to prepare, just add an egg, water & oil, then follow our simple instructions. Pop it in the microwave for a minute for a piping hot cake in a mug. 200g/7oz
int(44294)