View cart
"Beer Can Chicken Seasoning" has been added to your cart.
Description
Popcorn Tub. 12 per pack
You might like these
int(37009)
A unique blend of "Herbs & Spices" to easily create your own, homemade Arrabiata Pasta sauce, full of flavor. 15g/0.53 oz  
int(36949)
Perfect for the BBQ, enough seasonings to make 60 Pulled Pork slider sandwiches. One of our most versatile blends in a re-closable jar, great flavor. 182g/6.4oz  
int(36934)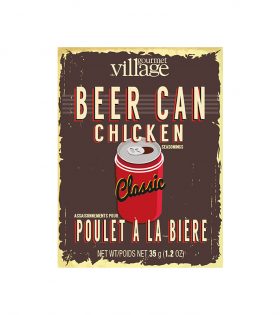 Classic slightly spicy taste a perfect balance of taste. A great way to get that moist, seasoned chicken, you''ll never want to cook a chicken any other way. 35g/1.2oz  
int(36941)
On the barbecue or in the oven, juicy, moist, full of taste, you can't beat our 'Beer Can Chicken' seasoning. Seasonings for 5 Chickens 20 servings. 190g/6.7oz  
int(36970)
Market fresh vegetables, lightly coated with olive oil then sprinkled with our seasonings make a wonderful healthy and tasty change from Burgers and Hot Dogs.  
int(37135)
Pasta Sauce Trio. Authentic, great tasting, homemade pasta sauces with all flavor, Arrabiata, Alfredo & Marinara. 59g/2.08 oz  
int(51644)
Delicious on freshly popped corn tossed with a little melted butter, or sprinkle on freshly boiled corn on the cob with butter. Also delicious with corn that has been roasted directly on the BBQ or in the oven. 22g/0.8oz
int(36957)
The best Fajitas are made with our seasonings on a cast iron Fajita skillet, our blend of seasonings adds all the taste and heat to your Chicken, Steak or Shrimp, 28g/1oz  
int(36995)
Our Caesar Salad dressing mix is one of the easiest homemade dressings you can find, it is a robust and zesty dressing that will keep you coming back for more. Serves 10 portions.          22g / .8 oz  
int(11633)
Perfect for Pork, just add our seasoning blend to Orange Juice, allow the flavours to blend, marinate your meat according to our recipes, easy to prepare perfect Pork on the BBQ anytime. 28g/1oz